News: The Fairest Names Of Them All
Christmas 2018 Despatch & Delivery Updates
To celebrate the release of Disney's latest film (Ralph Breaks The Internet), we decided to see which of Disney's "princess names" is the fairest of them all – that is according to our customers. This is also our first "Last Post" blog post of the year with all of our despatch and delivery information for orders of Christmas name labels.
Mirror, Mirror On The Wall, Which Disney Princess Names Do Our Customers Think Are The Fairest Of All?
Officially, there are eleven Disney Princesses (Snow White, Cinderella, Aurora, Ariel, Belle, Jasmine, Pocahontas, Mulan, Tiana, Rapunzel, and Merida) – and, yes, there are rules to determine who makes the line-up:
One: The character must be (or become) human.
Two: The character must have a primary role in an animated Disney/Pixar film.
Three: The character must not be introduced in a sequel.
Four: The character must be royal (by birth or marriage) or must have performed an act of heroism.
However, our customers can request any names they like, so we've used official and unofficial names for our poll, including:
Minnie Mouse
Alice (Alice in Wonderland)
Wendy & Tinkerbell (Peter Pan)
Maid Marian (Robin Hood)
Leia (Star Wars)
Eilonwy (The Black Cauldron)
Attina, Alana, Adella, Aquata, Arista, & Andrina (The Little Mermaid)
Nala (The Lion King)
Esmeralda (The Hunchback of Notre Dame)
Megara (Hercules)
Atta & Dot (A Bug's Life)
Jane Porter (Tarzan)
Jessie (Toy Story 2)
Kiara (Lion King II)
Melody (The Little Mermaid II)
Kida (Atlantis: The Lost Empire)
Ting-Ting, Su, & Mei (Mulan II)
Giselle (Enchanted)
Vanellope (Wreck-It Ralph)
Anna & Elsa (Frozen)
Elena (Elena of Avalor)
Moana (Moana)
So how do these princess names fare with our customers?
Of the 43 (!) names in our poll, our customers have requested name labels for 19 of them. Out of the 11 "official" princesses, only five made the cut with our customers. JASMINE came in third, followed by BELLE (sixth), AURORA (joint eighth), ARIEL (joint tenth), and TIANA (joint tenth). Our most popular names were ANNA and ALICE, with ELENA and JESSIE rounding out our top five.
So, here are the fairest princess names of them all – according to our customers anyway!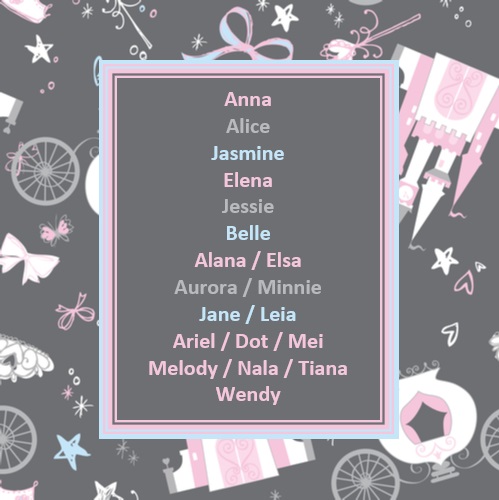 If You're Wishing Upon A Star For Magically Quick Delivery – Here's All The Despatch & Delivery Information You Need To Order Christmas Name Labels In 2018.
We will be printing and posting name labels every day (Monday to Friday) up to 3pm on Friday 21st December.
Orders received by 3pm on these days will be despatched same day, while those received after 3pm or over the weekend will be despatched on the next working day.
We post name labels using Royal Mail's first class service as standard; this service is free and is included in the prices on our website. First class mail usually arrives next day (around 93%); however, it is not a guaranteed service, which means items may take up to five working days to arrive. Delays will be come more likely as we approach the Christmas season.
Leave a Comment