News: Stikins Are Feeling Festive With Our Favourite Suitably Seasonal Names From Our Name Labels Customers
This week we're celebrating the festive season with our favourite Christmas-inspired names requested by our name labels customers in 2018.
Fantastically Festive Names To Bring You Christmas Cheer Throughout The Year
There are all sorts of names with a distinctly festive flavour. Some have very traditional origins, while others offer a more subtle sense of the season…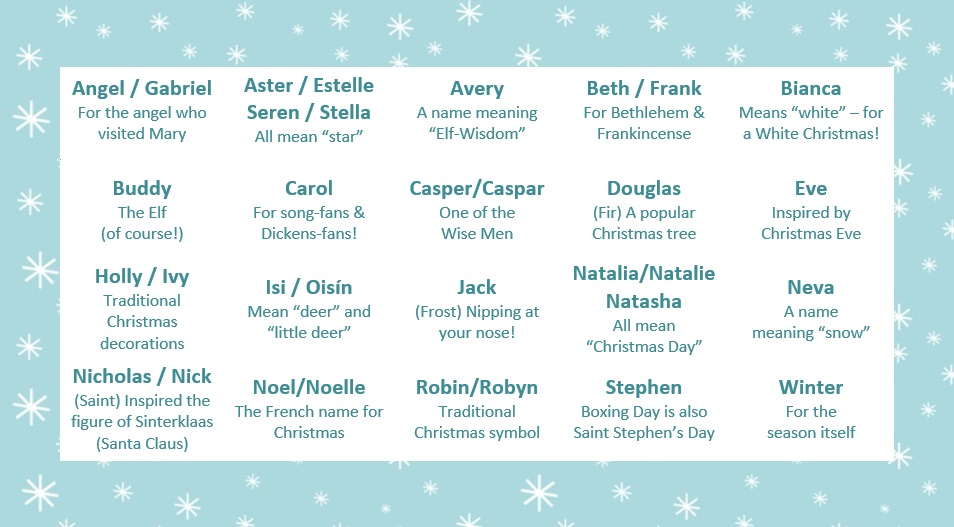 Festive FAQs For Ordering A Set Of Christmas Name Labels
Here are our answers to help you take the chaos out of ordering name labels for Christmas!
When Will My Name Labels Be Delivered?
We print name labels Monday to Friday up to 3pm. Orders placed on these days before 3pm despatch same day; orders placed after 3pm or over the weekend despatch next working day.
Standard delivery is free and uses Royal Mail's first class service. This service is NOT a guaranteed service. Around 93% of first classpost arrives next day but the rest can take up to five working days to arrive. This service is also likely to experience delays in the run-up to Christmas.
We therefore recommend upgrading to our special delivery service. We use Royal Mail's special delivery guaranteed service, which guarantees delivery by 1pm on the next working day *. This service costs £6.30, which is what Royal Mail charge us, and is available online and by phone.
* You must order by 3pm (Monday-Friday) to qualify for same day despatch.
If you are ordering name labels on a FRIDAY and upgrade to special delivery, your order will be delivered on the following MONDAY. If you need Saturday delivery, you must call us to upgrade to a special Saturday delivery service, which costs £9.30.
Will I Receive My Name Labels Before Christmas?
At this time of year, the answer to this question depends entirely on the delivery service you choose.
While our standard delivery service USUALLY arrives next day, this is NOT guaranteed – and first class items are likely to experience delays.
If you absolutely, positively need to receive your name labels BEFORE Christmas (if, for example, you are ordering on behalf of someone else, whom you will be visiting over Christmas) we strongly advise upgrading to special delivery – just to make absolutely, positively sure that your name labels arrive in time.
If you stick with standard delivery, please note that we CANNOT advise when your order will arrive as Royal Mail does not provide tracking information for its first class service.
What Items Can Be Labelled With Stikins?
Stikins are super flexible and made with a unique adhesive, which means that they stick on and stay on – to just about any item you might want to label.
They can be used to label clothing and fabric items; apply your name labels onto the wash-care label. They can also be used to label all kinds of other personal items. For example, shoes and bags, books and stationery, toys and sports kit, lunch boxes and water bottles, mobiles and tablets, and all those essential bits and pieces that have the potential to go missing.
In fact, the only items they really aren't suitable for are socks and tights; these items do not have wash-care labels and their flexible surfaces prevent Stikins from forming a sustainable adhesive bond.
Do I Really Just Stick Stikins Onto My Items?
YES! Stikins are stick on name labels designed to simply stick on and stay on.
There's absolutely no sewing and no ironing required. You should avoid direct contact between your iron and your name labels because the heat will damage your Stikins.
Which Pack Is The Most Cost-Effective?
Our largest pack size (N120) is the most cost effective label, offering the lowest price per label. If you don't need 120 name labels right away, remember that you can use however many Stikins you need right now and store the remainder safely away for future labelling (and emergencies!).
Keep your Stikins in their original packaging and store them somewhere dry, away from light/heat sources – preferably at a steady room temperature.
Can I Split A Pack Between Two (Or Three Or Four Or More!) Names?
We cannot split a pack; our system automatically prints the SAME text onto ALL of the labels within a single pack. If you want to share a pack of name labels between two or more people, why not try one of the following workarounds:
Use a surname only (or "Surname Family" / "Family Surname").
Use an initial and surname if your family members share an initial.
Request a blank line and a surname so you can write in the name you need using a suitable laundry pen.
Request two names and cut your labels in half (e.g. enter "Name 1" on line 1 and "Name 2" on line 2).
Add two names and share (e.g. "Name 1 & Name 2" on line 1 and "Surname" on line 2).
How Do I Order Stikins Name Labels?
You can order online, by phone, or by post.
Online Orders: order at any time by visiting www.stikins.co.uk.
Phone Orders: give us a call during office hours (Mon-Fri, 9am-5pm) on 01270 668076.
Postal Orders: fill in the order form on the back of our Parent Leaflets and post it to us.
NB: we would NOT recommend trying to order Christmas name labels by post - as you have to allow time for your order to arrive with us AND for us to post your order.

When Will You Stop Accepting Orders Of Name Labels For The Year?
Technically speaking, we never stop accepting orders because you can order Stikins online at ANY time over the Christmas period. We do, however, stop processing (i.e. printing and posting) orders during our Christmas break.
We will continue to print and post name labels up to 3pm on Friday 21st December.
Orders placed before this time will be despatched before we close for Christmas. Those placed after this time will not be printed and posted until we re-open on Wednesday 2nd January.
Please note that we will not be available to provide assistance over the Christmas break if your order does not arrive before Christmas. We would strongly recommend that you order as early as possible and use our special delivery service to avoid disappointment and delay.
Order Your Christmas Name Labels Now
Head on over to www.stikins.co.uk or give our Customer Service Team a call today. Let us know the names you need printing, the pack sizes you require, and your delivery information. You can pay by credit/debit card or PayPal account (online orders only).
For more information about Stikins name labels, take a look at our information pages and our FAQs page. If you need any help or advice, our Customer Service Team is on hand to answer your questions and queries.
Remember: to avoid disappointment and delays – order your name labels as early as possible and consider upgrading to our special delivery service.
Leave a Comment