Help & Advice From Stikins ® Name Labels
Help & Advice From Stikins ® Name Labels
Hello!

If you've got any questions or queries about Stikins ® name tags, including how to order and use our name labels, this is the page for you!

Use the links below to find out more about our name labels; hopefully, one of these pages will help with your question or query. If not, remember you can always get in touch with our Customer Service Team and we'll be happy to help with any enquiry - big or small!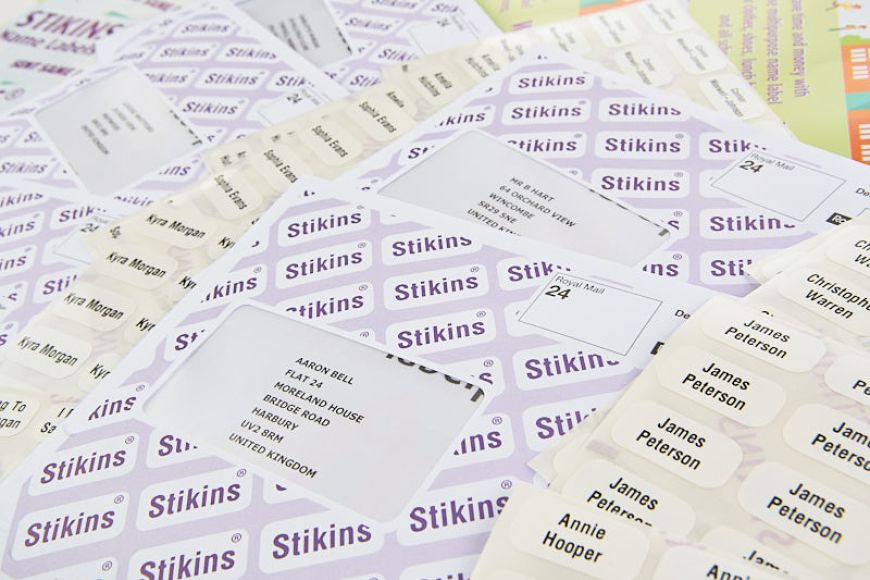 Find out more about Stikins ® name labels & Label Planet; a brief look back at our history - including the inspiration behind Stikins ® name tags along with a look back at some of the different versions that we've introduced as part of our determination to improve our products year on year, so they're always the best name labels they can possibly be!
A general outline explaining how our stick on name labels work. Our sticky school labels are designed to make the job of labelling all your children's belongings as quick and simple as possible.

Stikins ® labels simply stick on and stay on - leaving you time to get on with the more important things in life!
This page gives more detailed product information about Stikins ® name labels.

Find out more about the material and adhesive used to make our name tags, information about our print and the size of our name labels, and how to order your own personalised name labels.
All of our name labels are packed in bags, which have a copy of our Instructions For Use printed on the back.

However, you can also find a copy on our website - along with a few tips and tricks to help you get the very best out of your stick on name labels.
We've pulled together all of our customers' most frequently asked questions (along with our answers!).

You'll find FAQs about our stick on name labels, our print, our pack sizes, how to order, our prices, our despatch and delivery info, and how to use sticky name tags.
If you can't find the answer to your question on any of these pages, then get in touch with our Customer Service Team.

Our office hours are 9am-5pm, Monday to Friday. Give us a call on 01270 668076 during the hours or send an email at any time to [email protected].