Product Information: Label Everything In Minutes With Stikins ® Labels – No Time Machine Required!
The very first episode of Doctor Who aired on this day in 1963 – that's fifty-five years ago! To celebrate this anniversary in the year when a female actor has portrayed the role of the Doctor for the first time, we've pulled together the names of all of the Doctor's female companions over the years. We've also put together a list of reasons why Stikins ® labels are the perfect name labels to get you set for all of your adventures (in time and space!) - especially if you feel like you've got a Tardis worth of stuff to label!
Names Suitable For All Of The Doctor's Companions
Over the years, the Doctor has had more than fifty companions. While most are human (female!) characters from Earth, the doctor has also travelled with a humanoid alien / cyborg (Nardole), an android (Kamelion), aliens (Nyssa, Vislor, and Adric), another Time Lord (Romana), and, of course, his lovable robotic canine – K9.
To celebrate the first portrayal of the Doctor by a female actor (the wonderful Jodie Whittaker), we've pulled together a list of the female companions who've assisted the Doctor over the years.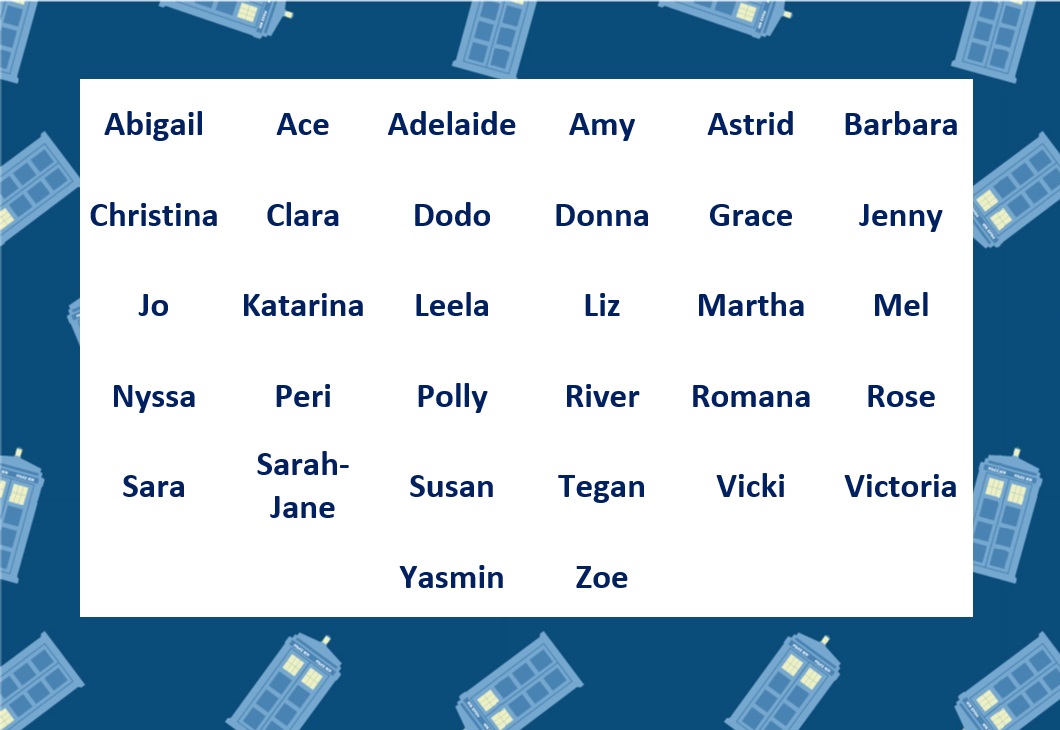 Among our customers, the most popular companion names are: Grace, Amy, Martha, Rose, Abigail, Zoe, Clara, Polly, Sara, and Barbara.
Name Labels Suitable For All Your Companions & All Their Stuff
Stikins ® labels were designed to provide busy families with a quick and simple way to label all of their belongings. Here are just a few ways our name labels can help you get ready for any adventure – big or small.
Easy To Order
Order online anytime or give us a call (9am-5pm, Mon-Fri). Let us know the names you want printing and how many name labels you need for each. Add your delivery details (and make payment) and you're done. Our prices are all-inclusive (VAT + UK delivery) so you pay the prices that you see.
Fast Despatch & Delivery
We print and post name labels every week, Monday to Friday up to 3pm. Every order placed before 3pm will be despatched same day. Orders received after 3pm, over the weekend, or on a Bank Holiday will be despatched on the next working day. We use Royal Mail's first class service for standard delivery and around 93% arrives next day.
Easy To Apply
Peel a label off the backing sheet, stick it onto an item, and use your thumb to smooth it down firmly – job done! There's absolutely no sewing and no ironing required. Apply your name labels onto the wash-care label of clothing and fabric items, onto the side wall or beneath the tongue of shoes, and directly onto any other items you wish to label.
Multipurpose Name Labels
Our unique adhesive means that your name labels will simply stick on and stay on – to all your stuff. You can use one pack of sticky name tags to label clothing and fabric items, shoes and bags, stationery and books, and all sorts of kit that your kids (and you) need to keep track of.
Ideal Size & Colour
Our name labels measure 30mm wide by 15mm high, which makes them a neat – and discrete – addition to any item. They're white in colour and printed with a bold, black font; this colour combination makes them really easy to read – for kids of all ages (and adults of all ages too).
Get Set For Your Next Adventure With Stikins ® Name Labels
Whether you're simply sending the kids to school or taking the whole family away for an adventure-filled holiday, Stikins ® name labels can help you to make sure that all of their stuff makes it safely home again – with no sewing, ironing, time machine, or sonic screwdriver required!
So, get a shift on and head on over to www.stikins.co.uk or give us a call today!
With Stikins ® name labels, you get super swift despatch and delivery – and you can label everything safely and securely labelled in minutes. Leaving you plenty of time to get on with the more important things in life – like heading out on your next big adventure!
Leave a Comment