Just for Fun: Classic Names For Classic Name Labels
There have been all kinds of naming trends over the years. From celebrities and entertainment, to names inspired by nature, we've seen them all! Names also tend to rise and fall in popularity. Some disappear entirely, while others begin to make a quiet resurgence. This week, we're celebrating names from a century ago, seeing how classic names from the 1920s are faring in the 2020s (at least amongst our name labels customers!).
Classic Names On Classic Name Labels
With so many sources of inspiration, it's hard to predict where the next big name craze might come from. However, some believe that names actually dip in and out of fashion based on a cycle of around 100 years. We were intrigued by this idea and decided to see how popular names from 100 years ago are now.
Taking the top 100 names each for boys and girls from 1924, we compared them to the names we've printed over the last 12 months.
Amazingly, amongst these 200 classic names, there were only three missing from our list – Clifford, Basil, and Hubert.
96% were requested more than once with over 72% requested more than 10 times. Best of all, 21% of the 1920s names were requested by at least 100 families last year. Which seems to suggest that some classic names really are making a comeback.
The most popular names from the 1920s amongst our 2020 customers were:
| | |
| --- | --- |
| Emily & Harry | Lily & Jack |
| Grace & George | Lucy & James |
| Alice & Thomas | Daisy & William |
| Ruby & Henry | Florence & Daniel |
| Eva & Joseph | Hannah & Samuel |
Here are the top 100 names from 1924 – can you spot any of your family's names on the list?!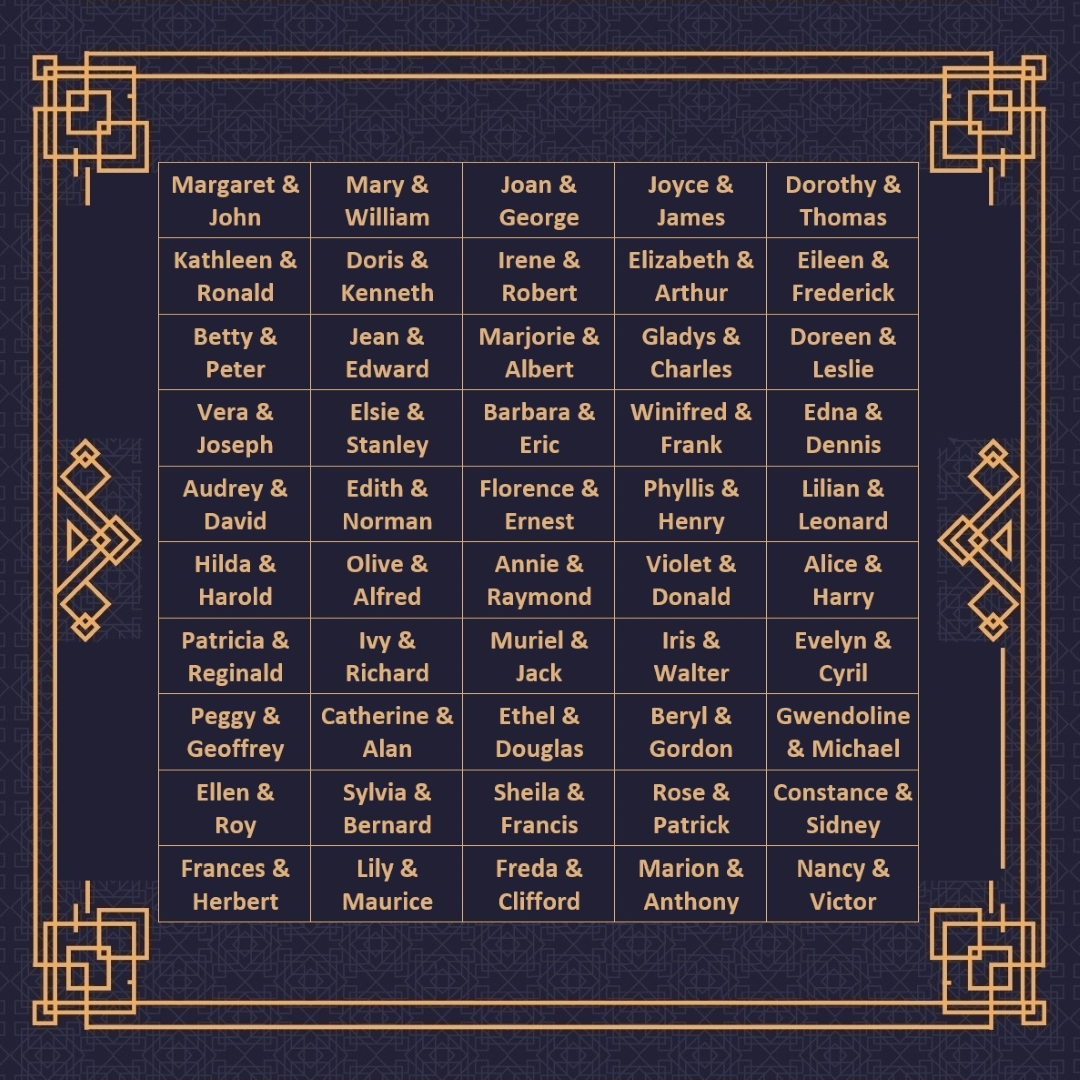 Name Labels That Will Last And Last And Last…
While we can't promise that they'll last for centuries, our name labels are designed to simply stick on and stay on. Their longevity lies in the materials we use…
Our name labels are made with a unique adhesive and a synthetic face material that is ultra-thin, durable, and flexible.
The adhesive is designed to create – and sustain – extremely strong adhesive bonds in tough conditions. This includes environments like the washing machine, tumble dryer, microwave, and dishwasher. These machines create extremely tough conditions that standard adhesives struggle to cope with effectively. Cleaning processes are especially difficult because they are designed to remove anything that has attached itself to your items (albeit in the form of dirt and other stains, rather than adhesive labels!).
The strength of our adhesive is supported by our synthetic face material. It is able to flex along with surfaces (like wash-care labels) inside the washing machine because it is ultra-thin and flexible. This means that our name labels remain firmly in place unlike thicker products, which are more likely to catch on other surfaces and start to peel away over time.
Our print is also tough and durable. Created using a special printing ribbon, your personalisation will remain firmly in place – and absolutely clear and legible – even after extensive washing, drying, and handling.
Stikins ® name labels have been independently tested for 60 washes at 40°. More importantly, they've also been thoroughly tested by thousands of families across the UK. Many parents have got in touch to ask how they can remove Stikins from items they want to pass down or give to charity. Others have even reported that their Stikins have remained firmly in place as the clothing have disintegrated around them!
Start A New Trend & Order Stikins ® Name Labels Today
If you want to give our name labels a try, simply head on over to our online order form or give us a call. It only takes minutes to order and we'll have your name labels printed and posted on the same or next working day.
Stikins ® labels are available to order in four pack sizes of 30, 60, 90, or 120 name labels. If you order three or more packs, you'll automatically receive a 10% discount. Delivery is free and uses Royal Mail's first class service.
If you'd like to find out more, check out our information pages – listed under "Use Stikins ® Labels As" and "Help" in our website menu. You can also check out the 10,000 reviews we've received from our customers.
Leave a Comment