Product Information: April Showers Bring May Flowers...
...& Stikins Label Everything In Minutes – Not In Hours!
As the old saying goes "April Showers Bring May Flowers" and, when we look back through our name labels orders, we're always sure to find plenty of floral-inspired names. So, this week, we're taking a look at your floral favourites, along with all of the ways Stikins can help you get everything labelled super fast – leaving you extra time to enjoy the sunshine this summer!
April Stikins Bring…A Bouquet Of Beautiful Names
We've taken a look back at the names we printed last year, which has created a beautiful bouquet with…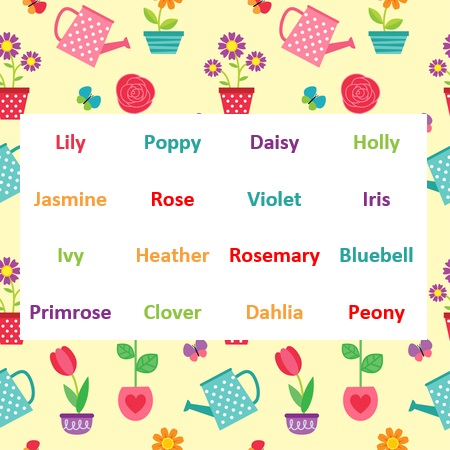 We've also got a floral theme in the form of Flora and Blossom, while the months themselves (April & May) are both popular names – with April edging just ahead of May in popularity in 2018.
May Stikins Bring…More Time For The Things You Enjoy This Summer
Stikins are designed to give busy families a quick and easy way to get all of their school stuff labelled in minutes – saving them time to get on with the more important things in life. Unlike sew-in or iron-on name labels, sticky name tags let you get your labelling sorted swiftly. They work like any other adhesive label; you simply peel them off their backing sheet, stick them down firmly, and you're done.
Our name labels are made with a unique adhesive, specially developed to ensure that your Stikins will stick on and stay on. This means that they'll stay stuck in washing machines, tumble-dryers, dish washers, and microwaves.
Best of all, it also means that you can use them to label pretty much everything and anything. Sew-in and iron-on name labels can only be used on fabric items, while some other stick-on labels can only stick onto certain groups of items (so you have to buy separate packs for clothes, shoes, bags etc). Stikins, however, will stay stuck to everything (except socks).
Stick them onto the wash-care label of clothing and fabric items, onto the side wall or beneath the tongue of shoes, and directly onto any other items and you've got your stuff sorted in seconds.
This means parents can get all of their kids' school gear (including uniform, shoes and bags, P.E. kit, and other essentials) safely and securely labelled using one name labelling product – with absolutely no sewing and no ironing required.
Save Time This Summer With Stikins Name Labels
You can order Stikins online, by phone, or even by post (although if speed is an issue, snail mail probably isn't the way to go). We print and post orders every day, Monday to Friday, up to 3pm so all orders will be despatched on the same or next working day.
Our standard delivery service (which is free!) uses Royal Mail's first class service. If you want to guarantee next day delivery, you can upgrade to our special delivery service (which is £6.30), which will guarantee delivery by 1pm on the next working day.
Leave a Comment