News: Happy #PretendToBeATimeTravellerDay!
Did you know that today is the 10th anniversary of 'Pretend To Be A Time Traveller Day'? You could be a visitor from the future, who finds everything outdated and quaint, or a traveller from the past, who is amazed and astonished by all of our wonderous technologies, odd clothing, and amusing social customs! The choice really is yours!
Famous Time Travelling Names
If you're looking for a name with a bit of a time travelling theme, there's plenty of inspiration to be found in fiction. Here's just some of our favourites…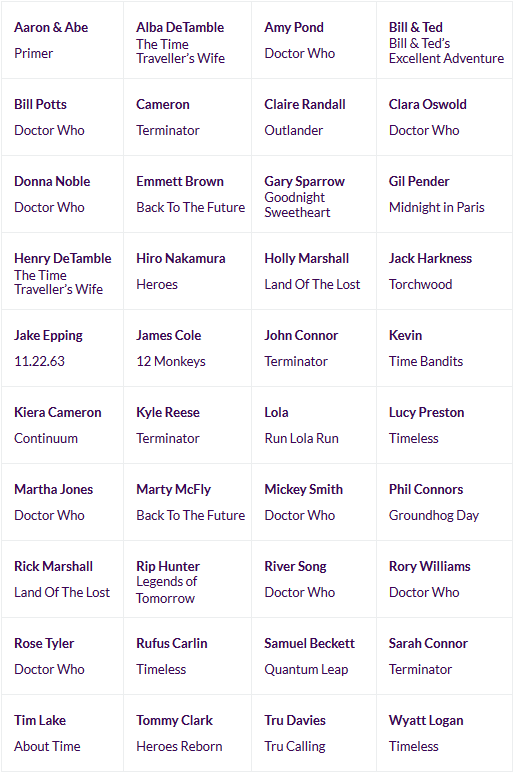 Don't lose your stuff in time OR space – Use Stikins ® name tags; the modern alternative to sew in name tags & iron on name tags
Okay, so Stikins ® can't help you to actually travel through time (or space) but they can help you and your family to keep track of all your belongings on any adventure (even if that's just getting them to school and back in one piece!). Our stick on name tags are made with a unique – and extremely advanced – adhesive that has been developed using the latest materials and manufacturing processes to ensure that each tag lives up to their name, that is that they simply stick on and stay on!
Each name tag measures 30mm wide by 15mm high and features a white background with a bold black font for text – this ensure that they're really easy to read (when you need to) but also totally discrete (when you don't). Stikins ® are a truly multipurpose name labelling solution; you can use one pack of stick on name tags as school uniform tags, general purpose clothing tags, name tags for lunch boxes, water bottles, and for anything else that you want to keep safe.
How to apply Stikins ® Name Tags:
Stikins ® can be applied in seconds; you simply peel each name tag off its backing sheet and then stick it onto the wash-care label (of clothing and fabric items) or directly onto the item that you want to label – use your thumb to apply pressure firmly and evenly across the surface of your name tags to ensure that the adhesive bonds fully with the surface and then allow 24 hours before washing for the first time to allow the adhesive time to set and fully strengthen.
With Stikins ® name tags, you can make sure that your children's belongings are securely labelled so that everything always make it's way home safely – even if their adventures get a bit timey-wimey! To order a personalised pack of name tags today, please fill in our handy online form or contact us directly to place an order!
Leave a Comment