News: On The 10th Day Before Christmas, Stikins ® Labels Gave To Me…
Names for Father Christmas & the last posting dates for our name labels!
Yes, there are only TEN DAYS left until Christmas Day and hopefully you're managing to keep on top of the chaos that is Christmas! To help you into the spirit, we've decided to look into the world of festive names…
While taking a look at Christmas inspired names, we were struck by how many different names are used to refer to those Christmas (and Winter) visitors who bring gifts to children each year. Here in the UK, we're all extremely familiar with the jolly man himself, "Father Christmas", but did you know that there are many other Christmas and winter gift-bringers who are celebrated around the world? Here's just some of the festive figures that we encountered…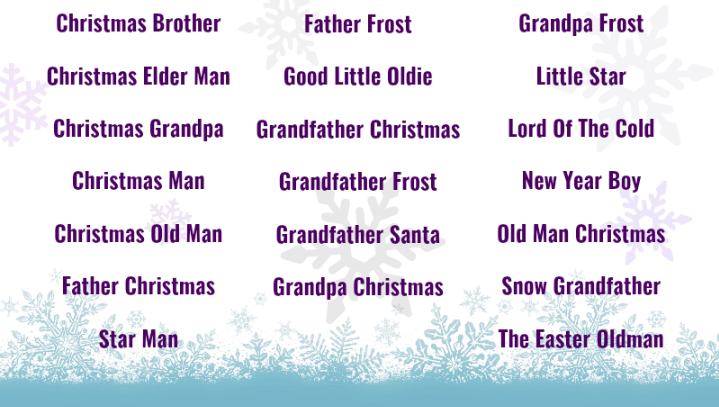 While the majority of these figures follow "Old Man" traditions, there are some female gift-givers to be found, including:
Saint Lucia/Saint Lucy: most commonly celebrated in Scandinavia and Italy, Saint Lucy is associated with light and "festivals of light" which are held in her honour on the 13th December. In Italy, she brings gifts to good children and coal to bad children – children leave out food to entice the donkey and make sure that Saint Lucy visits their house.
The Snow Girl/The Snow Maiden: Snegurochka is celebrated in Russia, where she is usually depicted as the granddaughter and helper of Ded Moroz ("Old Man Frost" or "Grandfather Frost") – who delivers presents to children on New Year's Eve.
Frau Holle/Old Mother Frost: also known as Holda, Huld, or Hulda, she is variously depicted as a Goddess of Winter, of the Sky, and of the Weather. In some traditions, she flies through the skies on 24th December (also known as "Mother's Night") to bring gifts to children. The Grimm Brothers used her in one of their fairy tales; snow falls to earth whenever she shakes out the blanket on her bed and she rewards a good child with gold and punishes a bad child with hot pitch.
Perchta: also known as Percht, Berchta, and Bertha, Perchta is a variation of the Frau Holle figure (or vice versa) and traditionally roams the countryside between Christmas and Epiphany, rewarding good children and punishing bad children.
Befana the Christmas Witch: celebrated throughout Italy, Befana is an old woman who delivers gifts on Epiphany Eve (the night of 5th January); good children wake up to a stocking full of gifts and sweets, while naughty children find a lump of coal – traditionally, children find nice gifts AND a lump of coal (rock sugar darkened with caramel colouring) as a reminder that they haven't always been on their best behaviour…
Last posting dates for Christmas orders of Stikins ® name labels…
So, now that we've shared some festive fun with you it's onto our second gift – our last posting dates for ordering Stikins ® name labels! We'll be printing our labels for clothing & personal items all next week (Monday – Friday); any orders we receive before 3pm will be despatched on the same day, while those received after 3pm will be sent next day.
Orders are despatched via Royal Mail's first class service as standard. Please note that Royal Mail do NOT guarantee that first class items will arrive next day AND first class mail does tend to see delays in the run up to Christmas.
Please note:
If you find yourself leaving things to the very last minute, the LAST DAY for any orders of school labels, equipment name tags, and general purpose name stickers will be Friday 22nd December (up to 3PM).
Once normal opening hours resume, you can order at ANYTIME by filling in our handy online order form or you can give us a call (Monday-Friday, 9am-5pm) to order your personalised name labels by phone.
Leave a Comment