Take A Road Trip Across America With The Stikins ® Hit List Of US-Inspired Names
News: Take A Road Trip Across America With The Stikins ® Hit List Of US-Inspired Names
And The Nominees For Most Popular US-Inspired Names Printed Onto Stikins ® Name Tags Are…
We've printed lots of name tags for people who share their names with American states and decided to find out which states are the most popular. So, we've searched through and records and the most popular US state names – among Stikins ® customers anyhow – are:
Georgia ~ Indiana ~ Dakota ~ Virginia ~ Alabama ~ Alaska
A lot of American towns and cities were named after places in the UK by British settlers and explorers – including Bath, Birmingham, Blackburn, Bolton, Bradford, Brighton, Bristol, Cambridge, Carlisle, Chester, Coventry, Crewe, Dartmouth, Derby, Dundee, Durham, Exeter, Gloucester, Hastings, Hull, Ipswich, Lancaster, Leeds, Liverpool, Macclesfield, Maidstone, Manchester, Newcastle, Northampton, Norwich, Portsmouth, Preston, Scarborough, Sheffield, Shrewsbury, Southampton, Stafford, Warwick, Weymouth, and Winchester.
Recently, of course, there has been a trend of people choosing names based on American states and cities so, if you're looking for a name with an American feel, there's plenty of options to be found across the good old U.S. of A., including: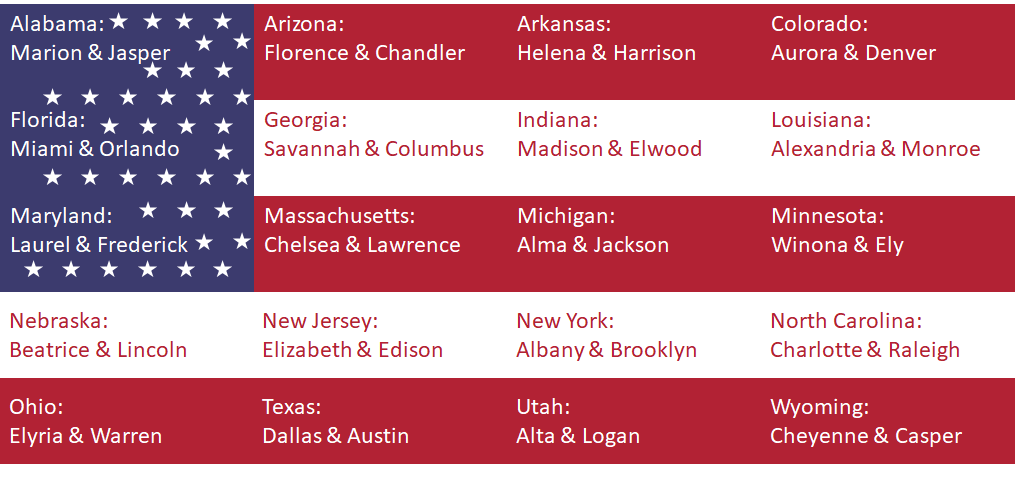 Name Tags – Despatch & Delivery Information For The UK (& The Rest Of The World)
Here at Stikins ® HQ, we only supply our name tags within the UK. We print name tags every day, Monday to Friday up to 3pm, which means that all orders are made and despatched on the same or next working day (with the exception of Bank Holidays and Christmas/Easter).
Our standard delivery service is completely free with orders despatched via Royal Mail's first class service. Around 93% of items sent on this service arrive next day, with the rest taking a day or two extra (especially in the London area).
If you need to receive your name tags quickly – in time for a school trip or before a relative/friend moves into a nursing home – you can opt to upgrade to our next day delivery service. This option uses Royal Mail's Special Delivery Guaranteed service, costs £5.75, and guarantees that your name tags will arrive the next working day by 1pm.
Currently, you can only upgrade to this service by phone (our Customer Service Team is available 9am-5pm on 01270 668076) – although you'll be able to upgrade online very soon!
If you live outside the UK and want to order Stikins ® name tags – don't despair!
Customers can order Stikins ® for delivery to a number of countries worldwide by ordering from our sister company Madebuy, which sells Stikins ® name tags via Amazon and eBay!
You can order Stikins ® name tags online at www.stikins.co.uk or you can give our Customer Service Team a call and we'll be happy to help!
Leave a Comment