News: Popular Names For Little Princes & Brand New FAQs
Last year, we discovered which Disney Princess names were the most popular amongst our name labels customers. This year, to celebrate Disney's live action Aladdin (released this week), we're doing the same for your little Princes!
Mirror, Mirror On The Wall, Which Disney Prince Names Do Our Customers Think Are The Fairest Of All?
For our poll, we're using the "princes" associated with the eleven official Disney Princesses – along with a few of our favourite unofficial "Disney Princes":
Florian (Snow White), Henry (Cinderella), Phillip (Aurora), Eric (Ariel), Adam (Belle), Aladdin (Jasmine), John (Pocahontas), Li (Mulan), Naveen (Tiana), Eugene (Rapunzel), Harris, Hubert, and Hamish (Merida), along with Mickey, Peter, Robin, Luke, Taran, Simba, Quasimodo & Phoebus, Hercules, Flik, Tarzan, Buzz & Woody, Kovu, Milo, Ling, Yao, Chien-Po, Edward & Robert, Ralph, and Kristoff.
So, What Are Your Popular Picks For Little Princes?
Of the 35 names in our poll, 19 have been requested by our customers.
Of the 13 "official" names, 10 were picked for your little princes – top amongst them HENRY (first), ADAM (fourth), JOHN (fifth), and HARRIS (ninth), with LUKE, EDWARD, PETER, MILO, ROBERT, and RALPH rounding out our overall top ten.
So here are the most popular princely names of them all – according to our name labels customers anyway!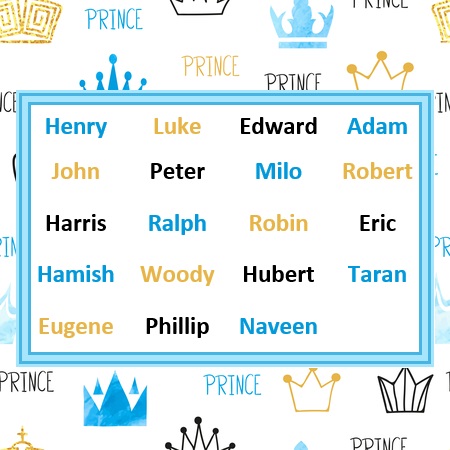 (Of course, if we take into account recent events, we could also add "Archie" & "Harrison" to our list. Both names are very popular with our customers and would come second and fifth, respectively, in our revised list of princely names!)
Need some advice on ordering the perfect personalised name labels? Check out our brand new FAQs page!
We've given our FAQs page a bit of revamp to make it even easier for customers to get answers to their (frequently asked) questions about our name labels. Our FAQs have now been grouped into categories (Name Labels, Personalisation, Packs, Orders, Prices, Delivery, and Using Stikins ® Labels As) to help you find the answer(s) you need.
We've added "Featured Questions" – pulling together your most frequently asked questions – and added a contact form for you to ask and/or suggest new questions for our FAQs page.
Most exciting of all, we've added a search bar; start typing in your question and our search bar will suggest questions (and answers) that match your name labels queries.
Remember, if you can't find an answer to your question, you can always get in touch and we'll be happy to help!
Leave a Comment