News: Happy Tartan Day From Stikins ® Name Tags!
A Happy Tartan Day From Stikins ® Name Tags!
Here in the Stikins ® Name Tags office, we thought we'd celebrate Tartan Day with a list of some of our favourite names that have their origins in the language (and lands) of Scotland.
There are so many different names that can trace their roots to areas of Scotland and to Scottish languages. Some have retained a flavour of their Scottish heritage while others have adapted to different times (and different tongues) to create a whole range of brand new names for new generations all around the world.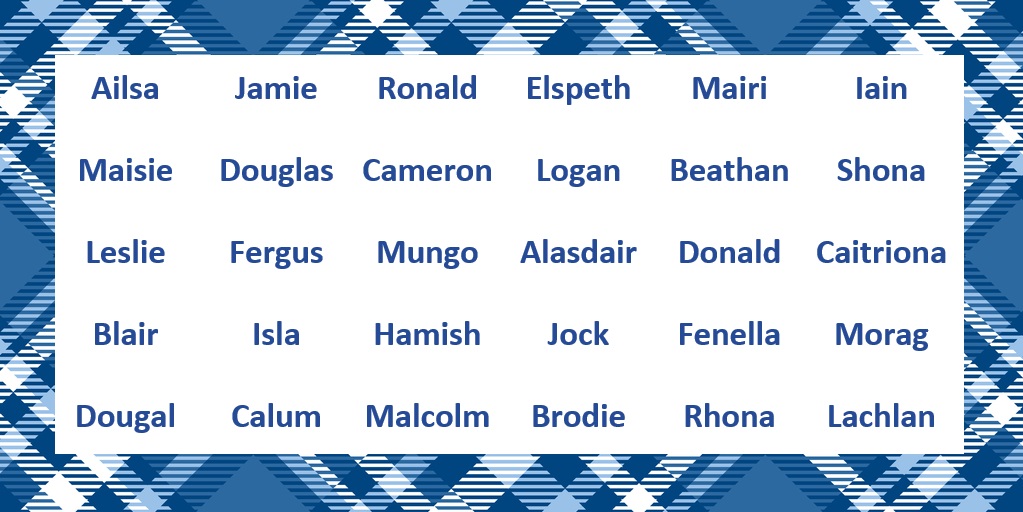 Stikins Clothing Labels For All Kinds Of Items (Kilts Included!)
Stikins ® name tags are made with a brilliantly advanced adhesive. This adhesive creates a strong bond that allows your clothing labels to remain firmly fixed to items. Even after repeat visits to the washing machine and the tumble drier.
Our name tags have been independently tested to ensure that your clothing labels will simply stick on and stay on. During testing, they were applied to the wash-care label of clothing and fabric items. They were then washed using the BS EN ISO6330 wash test procedure for 60 washes at 40 degrees.
Of course, they've also been independently tested by thousands of families across the country over the last fourteen years. You'll find more than 6,000 reviews on our Reviews Page.
Stikins ® name tags are really easy to use as clothing labels. Simply peel a name tag carefully from the backing sheet – taking care not to touch the adhesive too much. Apply your tag to the wash-care label of your item of clothing or fabric item. Firmly press down to ensure that the adhesive fully bonds with the label. Leave for 24 hours before washing your item for the first time.
Stikins ® labels are also multipurpose name tags that can be used to label pretty much anything. The one exception is socks, which don't have a wash-care label. Their stretchy surface is difficult for sticky labels to bond with effectively and so they are likely to peel off.
Order Clothing Labels For School Uniform, Day To Day Clothes, and Fabric Items Today.
To order your own set(s) of name tags, you can go online, give us a call, or pop an order form in the post.
Leave a Comment