News: Happy Limerick Day (There Once Was A Label Called Stikins…)
Today is National Limerick Day; a day for encouraging people to read (and write their own) limericks.
Limericks are short five-line poems that are generally designed to be funny (although many are also rude). They've been around since the early 18th century but were popularised in the 19th century by the English artist, illustrator, musician, author, AND poet Edward Lear – known best as the author of the nonsense poem "The Owl and the Pussycat".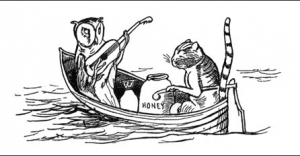 In fact, the 12th May was chosen as Limerick Day because it is Lear's birthday (which means today is also The Owl & The Pussycat Day!); Lear wrote over 200 limericks, which tended to be more nonsensical than humorous (or rude) but nevertheless played an important role in popularising the limerick form.
So, why not celebrate Limerick Day by writing your own limerick? Here at Label Planet, we've had a go and came up with the following (we apologise wholeheartedly in advance…):
The Stikins ® Limerick
All parents know this to be true;
Their kids will lose anything new
But use a name label
And they will be able
To keep their stuff safe all year through!
(As we said – we're really, really sorry!)
For something that we're much, much better at, why not visit stikins.co.uk to take a look at our superb stick on name labels; these easy to use, multipurpose name labels are designed to simply stick on and stay on – with no ironing and no sewing required – leaving busy parents time to get on with the more important things in life!
Leave a Comment