News: Discover Digital Names for a Digital Age with Stikins ® Labels
Did you know that today marks the 35th anniversary of the "Apple Lisa", a personal computer developed by Apple during the 1970s and 1980s? This got us thinking about how computers have sometimes been named after people – and how, nowadays, some people are named after computers!
Names inspired by the digital age…
Over the years, new forms of technology and digital devices have been given "human" names. Some are named for friends/relatives/colleagues (like Lisa– Steve Job's daughter – and the Watson supercomputer – named after IBM's first CEO), some are inspired by fictional characters (like Phoebe – a personal computer named after the Friends character – and Simon– a computer named for the "Simple Simon" nursery rhyme), and others have been named in honour of technology pioneers (like Ada and Pascal – programming languages named for Ada Lovelace and Blaise Pascal respectively).
Today, some parents are turning to the digital world for inspiration; while some opt for more subtle nods to their favourite tech (as seen in the rise of names like Alexa and Siri), others have gone all out – with names including Like, Hashtag, Google, Facebook and Vista. In fact, a tech-loving family have even decided to adopt the phrase "2.0" in place of the traditional suffix "Junior"!
Whether you're a technology fanatic or you simply want a name with a futuristic feel, there's plenty of inspiration to be found in the digital world: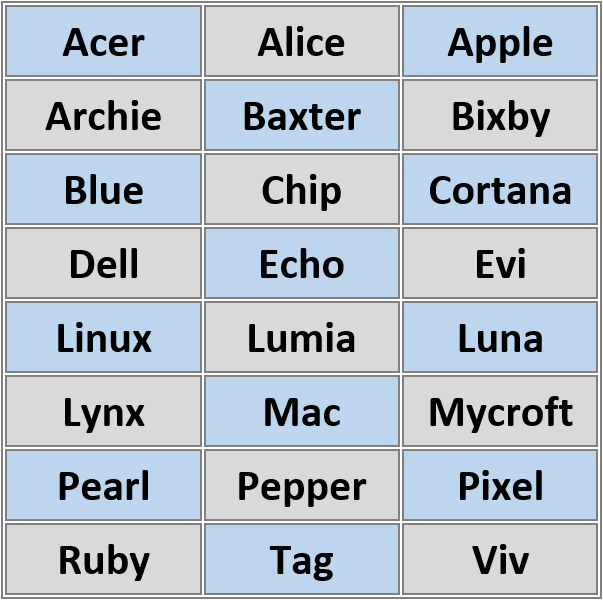 Modern Name Labels for a Modern Age
Stikins ® name labels were designed to be a modern labelling solution for modern families; in other words, they were designed to fit into the lifestyle of busy families with a minimum amount of muss and fuss!
Our sticky name labels are made with an incredibly advanced adhesive that allows them to simply stick on and stay on – with absolutely no need for sewing or ironing. The strong adhesive means that they are multipurpose school name labels that can be used on virtually any surface, from uniforms, bags and shoes, to general purpose objects such as lunch boxes, water bottles, books, stationery, and all those "essentials" that children refuse to go without!
Our name tags measure 30mm wide by 15mm high and are white stick on labels printed with a bold black font – this means that they're a discrete addition to any item which is also really easy to read (especially in the rush and tumble of the school environment).
Our name labels have been independently tested using the ISO6330 wash test procedure for 60 washes at 40 degrees so they're perfect as school uniform labels (where they need to survive a LOT of trips through the washing machine).
Order your Stikins ® name labels today!
You can order Stikins ® name labels online at any time simply by filling in our handy order form. Alternatively, you can also give our Customer Service Team a call on 01270 668076 and order by phone; we're available Monday to Friday, 9am-5pm, and we print and post out name labels every day (up to 3pm).
Leave a Comment