News: Inspire Your Kids To Be Curious About The Universe
We are delighted to announce that we have launched our latest free prize draw and this one is truly out of this world! To celebrate the 50th anniversary of the moon landing, we've teamed up with Bright Minds to offer you the chance to win a TK1 Telescope & Astronomy Kit from Thames & Kosmos.
Inspire Your Kids To Set Their Sights On The Skies This Summer
This month marks the 50th anniversary of the first moon landing, which took place on 20th July 1969. Celebrations are taking place throughout the summer to mark the anniversary of this extraordinary event and to inspire future generations to continue to explore the universe.
With our latest prize draw, you and your family can join in and explore the night sky and the universe beyond.
We've got 20 TK1 Telescope & Astronomy Kits (each worth £99.99) to give away. This entry level kit is perfect for beginner and advanced amateur astronomers, offering the chance to take a closer look at our solar system, galaxy, and cosmos beyond.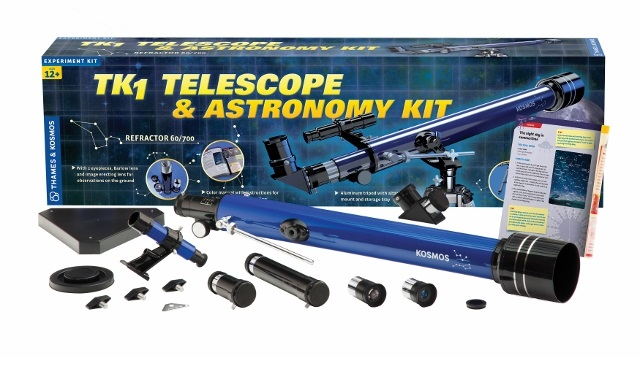 The kit includes a high-quality refractor telescope and accessories, along with a handy instruction book, which provides instructions on how to use the scope and accessories, a set of observations and experiments to get you started, and plenty of fascinating facts and insights about our universe!
The telescope features high quality coated glass optics, durable construction, and a sturdy aluminium tripod with altazimuth mount to keep it steady during observation. The scope has a 700mm focal length and a 60mm objective lens to bring distant objects into view, while the finder scope with 5x magnifying power helps you find objects more easily. The diagonal mirror and interchangeable 10mm and 20mm eyepieces transmit brilliant images at an easy viewing angle.
Also included are a Barlow lens to double the scope's magnification power and an image reversal lens for terrestrial observations on Earth.
How To Win A Prize That Will Send Your Kids Over The Moon!
All you have to do is be in it to win it! Visit our prize draw page and submit your name and a contact email address.
It is completely free to enter! The competition closes at 23:59 GMT on 1st September and we'll notify winners by email by 13th September.
For full terms and conditions, see our Competition T&Cs.
Comments
My son would love to win prize absolute quality.

Wednesday 3rd July 2019

Hi Derek,

Thanks for entering our free prize draw - we wish you and your son the best of luck!
Winners will be notified by email no later than 13th September.

Kind regards,
The Stikins Team

Wednesday 3rd July 2019
Leave a Comment