News: Flaming Good Names For Bonfire Night!
Celebrate Bonfire Night with Stikins ® Name Labels!
This weekend will see hundreds of events taking place across the country in honour of Bonfire Night / Guy Fawkes Night. To celebrate, we thought we'd gather up some blazingly brilliant names to suit the occasion.
Names Inspired By "Fire"
There are plenty of names from across the world that mean "fire", including: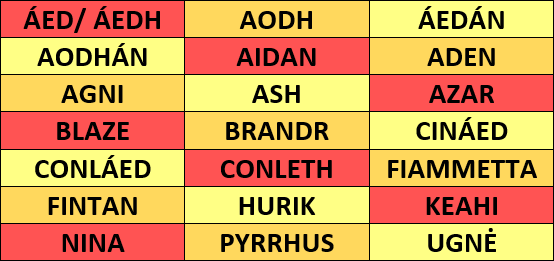 Names Inspired By "Fireworks"
There are also names that have a perfect connection to Bonfire Night and the fireworks and effects that are used during celebrations, including:
BLOSSOM: A flower-like effect that opens and expands.
CATHERINE (wheel): A firework that is either a spiral tube or an angled rocket mounted with a pin through its centre so that it rotates when ignited.
CHERRY (bomb): A firecracker contained in a paper cup that explodes as a sphere.
CHRYSANTHEMUM: An effect characterised as an expanding sphere of coloured stars that leave behind a trail of sparks.
DAHLIA: An effect that is similar to the peony (see below) but has fewer and larger stars that travel for longer and may have a cylindrical rather than spherical shape.
(jumping) JACK: A firework that appears to "jump" around on the ground as it spins and produces coloured effects that fire in all directions.
LANCE: A firework contained in a thin paper tube, which is combined with other lances to produce words, phrases, or pictures.
PEARL: An effect characterised by stars that burn in just one colour until they burn out at their maximum height.
PEONY: An effect characterised as an expanding sphere of coloured stars (without a trail of sparks).
ROMAN (candle): A firework contained in a card tube that periodically emits either a single effect or a series of small effects (e.g. stars, comets, bombettes, trails, serpents etc).
WILLOW: An effect characterised as an expanding sphere of coloured stars that leave behind a trail of long burning gold or silver stars.
Names Inspired By "(Guy) Fawkes"
Of course, there are also names connected with the Gunpowder Plot itself, including the thirteen men involved in the plot to remove King James I from the throne. The group began with five original conspirators, before two individuals were added, followed by two groups of three further conspirators.
ROBERT Catesby: The leader of the group who planned the Gunpowder Plot.
THOMAS & ROBERT Wintour: Cousins of Catesby; Thomas was amongst original group of five conspirators, while his brother Robert was recruited in the penultimate group of three (most likely to boost the group's funds).
JOHN (Jack) & CHRISTOPHER (Kit) Wright: John was one of the original five conspirators (and purchased plenty of weapons for the group), while Christopher was a later recruit (one of the penultimate group of three).
GUY Fawkes: Ultimately, the most famous member of the group (owing to the fact that he was caught guarding the gunpowder); he was invited to join the group by Thomas Wintour due to his expertise with explosives. He used the alias JOHN Johnson, in an attempt to hide his own identity.
THOMAS Percy: The final member of the original group of five; Thomas Percy was a friend of Robert Catesby and brother in law to the Wright brothers; he helped to fund the group and secured the leases of a number of key properties in London for the group's use (including the vault beneath the Houses of Parliament where the gunpowder was eventually placed in preparation for the attack).
ROBERT Keyes: Recruited to guard the gunpowder supplies before they were transferred to their hiding place beneath the Houses of Parliament, Robert was a distant cousin of both the Wintour brothers and the Wright brothers.
THOMAS Bates: Robert Catesby's servant was added to the group of conspirators because he accidentally discovered the plot after becoming suspicious of his master's movements.
JOHN Grant: The third member of the penultimate group of three, John Grant was brother in law to the Wintour brothers, and was recruited to provide supplies for an uprising in the Midlands.
AMBROSE Rookwood: The first member of the final group of three recruits, Ambrose was Robert Keyes' cousin in law and was recruited for his extensive stable of horses – needed for the Midlands uprising.
FRANCIS Tresham: A cousin of Robert Catesby, Francis was recruited for access to his recent inheritance and his estate at Rushton Hall; he refused Catesby both, although he did give a small amount of money to Thomas Wintour.
Sir EVERARD Digby: The final recruit, Sir Digby was recruited for his money and his stable of horses to fund (and participate) in the Midlands uprising.
Buy Stikins ® name labels & get all your winter warmers labelled
If you're planning to be out and about this weekend, you'll probably be wrapping up nice and warm in a variety of winter warmers, which makes this the perfect time to get out your Stikins ® name labels (or to place another order if you're running short) to get everything labelled.
Whether it's a favourite scarf, a well-loved pair of gloves or mittens, or a super-snuggly hat, it's all too easy to take these items off, put them down "somewhere safe", and then completely forget to pick them up again – not to mention all the mix ups and confusion that can happen when these winter warmers are thrown together into the chaos of a classroom or school cloakroom. This is where our super sticky name labels can help to save the day!
Easy to use name labels that stick on and stay on
Stikins ® labels are extremely easy to use stick on labels that can be used as name labels on all kinds of winter warmers. The labels simply stick onto the wash-care label and will remain there for a very long time. Their durability and intense stickiness also renders them brilliant for use as school name labels throughout the winter, spring, summer, and autumn months. Each name label measures 3cm wide by 1.5cm high (so they won't stick out when they're not needed) and they are printed with a bold black font to make it really easy for your child (or a member of staff) to read the name on each item that you've labelled.
If you're looking for name labels that can be used as school uniform labels, clothing labels, shoe labels, bag labels, and "other essentials" name labels, Stikins ® labels offer a multipurpose name labelling solution. One pack of our stick on name labels will label pretty much everything! Visit our website or get in touch with us today for more information or to place an order. We wish you a very happy and safe Bonfire Night!
Leave a Comment