Just for Fun: Labelling Items Is (N)Oh Bother With Name Labels
Today is the 96th anniversary of the publication of the first Winnie the Pooh short stories. We're celebrating with some of our favourite facts and we reveal your favourite Winnie the Pooh character names. Plus, we take a look at how Stikins ® name labels make labelling school kit (n)oh bother.
"Or my name's not Winnie-the-Pooh, which it is, so there you are" – Winnie The Pooh
Winnie the Pooh has long been a childhood staple with his adventures in the Hundred Acre Wood. Today, we're celebrating the anniversary of the first set of short stories with some of our favourite facts about Winnie the Pooh.
Did you know:
Winnie the Pooh gets his name from a toy bear, a real bear, and a swan. In 1921, A.A. Milne bought his son (Christopher Robin Milne) a toy bear from Harrods. Originally named "Edward Bear", Christopher renamed the toy "Winnie" after seeing Winnipeg, a female black bear, at London Zoo. "Pooh", meanwhile, was the name Christopher gave to a swan that lived near the Milne's country home. He said that, by naming the swan "Pooh", it wouldn't matter if the swan ignored him because it would simply sound like he had said "Oh Pooh".
E.H. Shepard produced the illustrations for Milne's poems and stories. His drawings of Winnie the Pooh were based on his own son's toy bear (Growler), which is why Winnie isn't a black bear, like Winnipeg.
Christopher Milne also owned toys that inspired Piglet, Eeyore, Kanga, Roo, and Tigger. Milne created Owl and Rabbit based on real animals at their country home (Cotchford Farm in East Sussex).
The Hundred Acre Wood is based on Ashdown Forest, which is about a mile away from Cotchford Farm. The family regularly visited the farm (and the woods) in spring and summer.
The bridge where Christopher Milne played Poohsticks has become a tourist attraction. By 1999 it needed replacing and the architect in charge redesigned the bridge to look more like the illustrations in the books.
The first collection of stories (Winnie the Pooh) remains Milne's best selling work; over 70 million copies have been sold in 72 languages. The Latin version, published in 1960, was the first foreign-language book to feature in the New York Times' Best Seller List, and remains the only Latin book to do so.
January 18th is National Winnie the Pooh Day because this is A.A. Milne's birthday.
All of the original toys can be seen at the New York Public Library – except Roo. According to Christopher, Roo was lost in the 1930s on a trip to an apple orchard.
As part of our celebrations, we were also curious to see if we'd printed any of the names of Winnie the Pooh's friends. Of the nine main characters, we found that we'd printed the following six: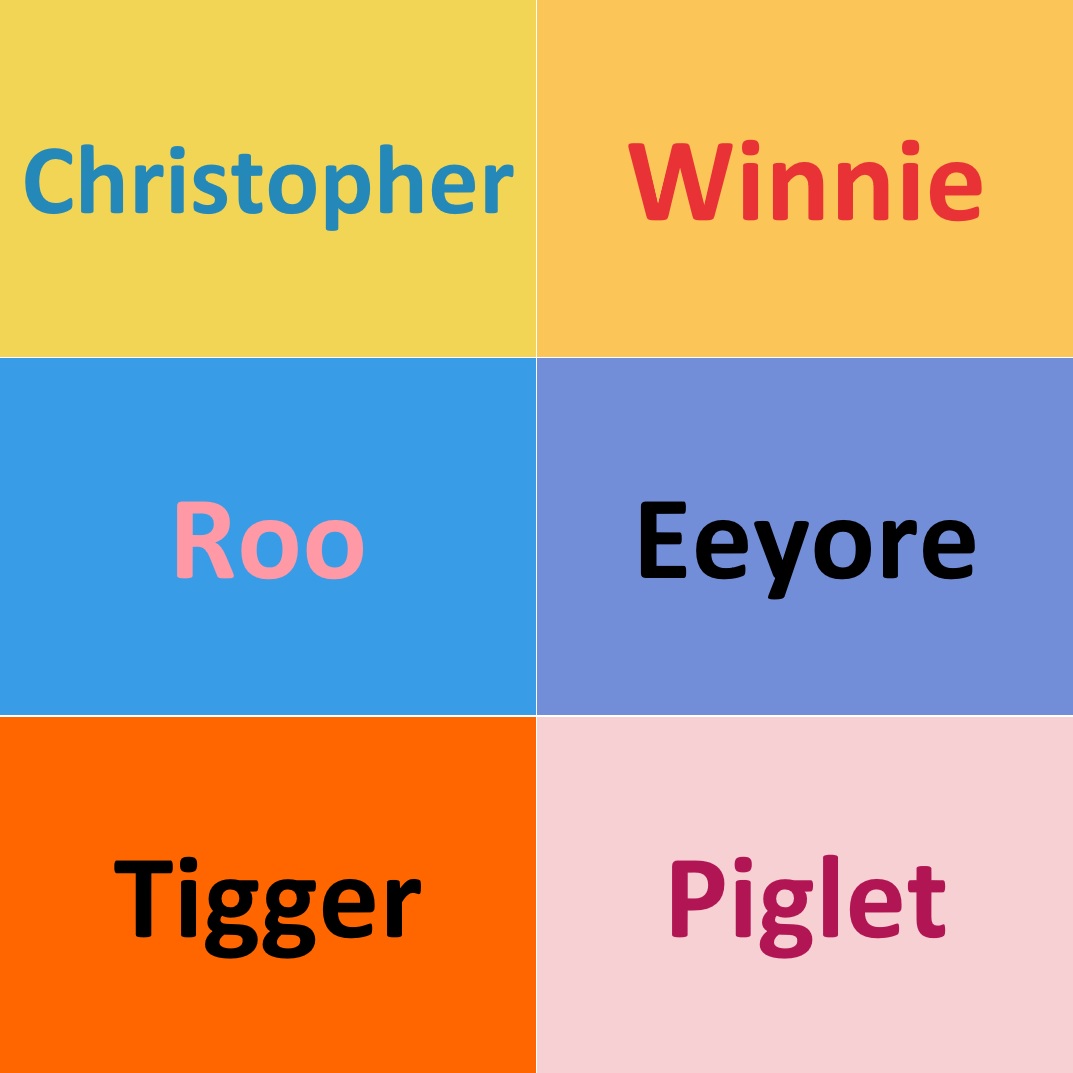 Sadly, Rabbit, Owl, and Kanga have yet to feature on any of our name labels – but there's always next year!
Which character from Winnie the Pooh is your favourite?
"Most likely lose it again, anyway." – Eeyore
If your kids are prone to losing things, just like Pooh and friends, we are here to help. Our name labels make it super easy to label all your kids' belongings. They also make it super easy to return items that have decided to wander off.
Stikins ® labels are bright white name labels with a bold black font. This colour contrast makes it really easy for kids of all ages to read your labels. We use a unique adhesive on our name labels, which allows them to really stick on and stay on. There's absolutely no sewing and no ironing required. Stikins are multipurpose name labels, which means they can be used on all your kids' school kit. This includes school uniform, shoes and bags, P.E. kit, books and stationery, and all their other essentials. This means you can use one product to label all of your school kit in minutes.
You simply peel each label off the backing sheet and press it firmly into place. When labelling clothing and fabric items, you must apply your labels onto the wash-care label. In footwear, we recommend sticking your name labels onto the side wall or beneath the tongue.
Do not stick them under the heel because the print will be worn away.
Happy Sticking With Stick On Name Labels
If you're looking for a (n)oh bother solution to name labelling, why not order your own stick on name labels today. Stikins ® labels are available in packs of 30, 60, 90, or 120 name labels. We print and post every weekday (Mon-Fri) up to 3pm. This means we despatch all orders received by 3pm on the same day. We despatch orders placed after 3pm or over the weekend on the next working day. Delivery is free and uses Royal Mail's first class service as standard.
Leave a Comment