Just for Fun: Launch Your Own (Caped) Crusade Against Lost Property With Sticky Name Labels
Today marks the release of The Batman. We're celebrating with a look at how Batman-related names fare amongst our customers. Plus, how stick on name labels are helping to win the fight against lost property in schools.
Na na na na na na na na na na na na Bat-Names!
To celebrate The Batman, we decided to riddle(r) out how many Batman-themed names we've printed. We managed to scare(crow) up over 70 names from the world of Gotham. From heroes and villains, by way of bats, cats, birds and foxes (not to mention the actual Bat-Hound), check out our top picks below.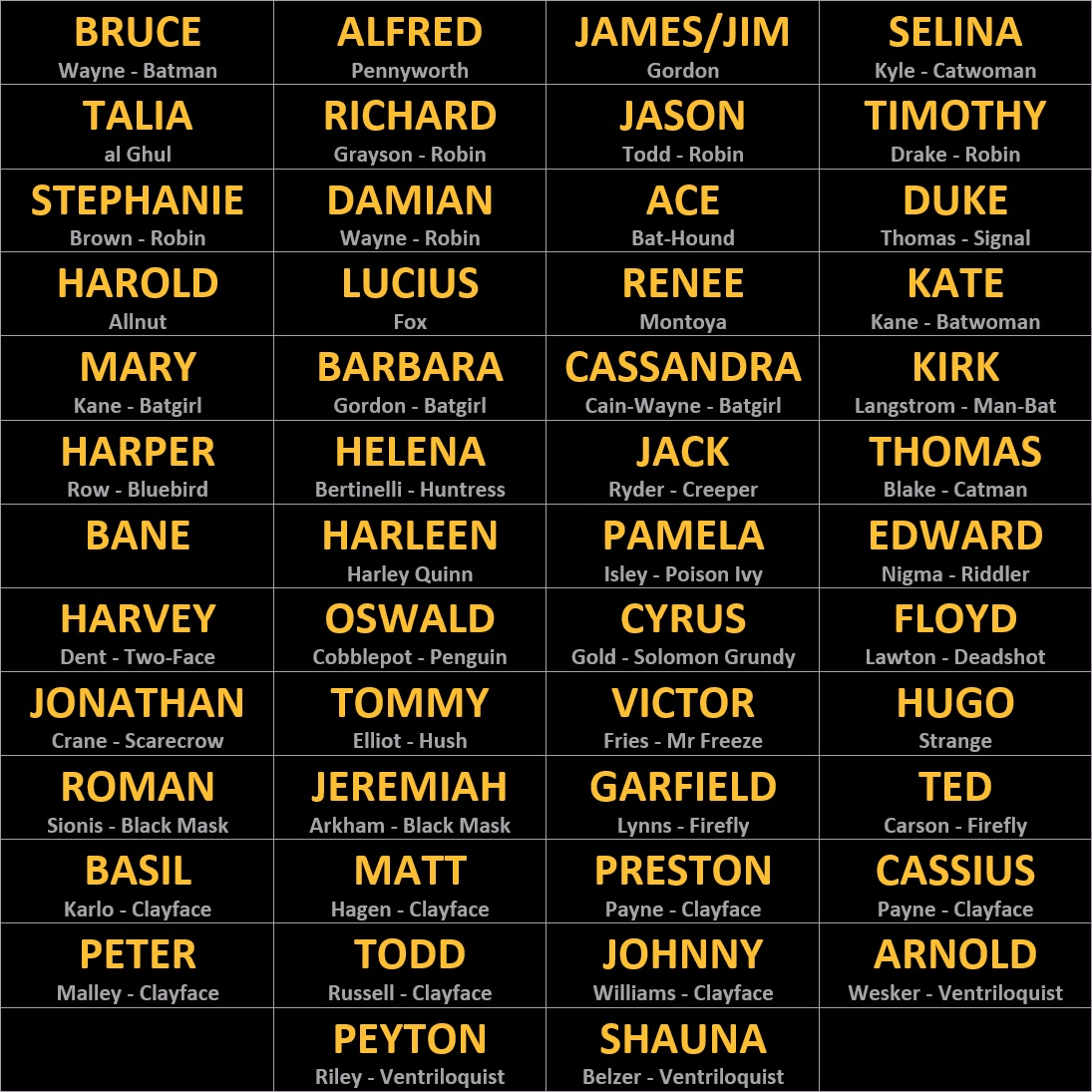 Beat The Lost Property Box With Your Own Personalised Bat-Signal (AKA Stikins ® Stick On Name Labels)
So, name labels might not be able to summon a superhero or save the world. But they can keep your kids' school kit safe.
Stick on name labels make it SUPER easy and SUPER quick to label school stuff.
Stikins ® name labels have a unique adhesive and you can label items in seconds. Simply peel a label off the backing sheet and stick down firmly. The same labels work on clothing and fabric items* as on shoes, bags, lunch boxes, water bottles, books, stationery, P.E. kit, and all the other essentials your kids need for school.
* Apply your labels onto the wash-care label only in fabric items. Do not apply them directly onto the fabric as we cannot guarantee they will work on all materials.
Once labelled, anyone can identify the owner of an item with a quick peek at the label. We use a super clear contrast of bright white labels printed with a black font to make sure they're easy to read for kids (and adults) of all ages.
Labelled items can be returned to their owner before they reach the lost property box. They're also SUPER easy to return if they do end up in lost property. This means parents don't have to pay for replacements and schools don't have to deal with unclaimed property that often goes to waste.
Make sure your family doesn't have any more dark (k)nights worrying about lost property – order Stikins ® labels today!
We offer packs of 30, 60, 90, or 120 name labels. You can order online or by phone. We offer same day despatch up to 3pm, Monday to Friday. Orders placed after 3pm, over the weekend, or during holidays are despatched next working day. Delivery is free and uses Royal Mail's first class service.
Leave a Comment