Product Information: We're Going Barking Mad For Dog-Themed Names!
Today is the 58th anniversary of the release of Disney's animated film One Hundred and One Dalmations. We've seen many different inspirations for names over the years so we thought we'd take a look at how many dog-themed names we could find on the name labels we've printed over the years.
The Most Pupular Dog-Themed Names Used By Stikins ® Name Labels Customers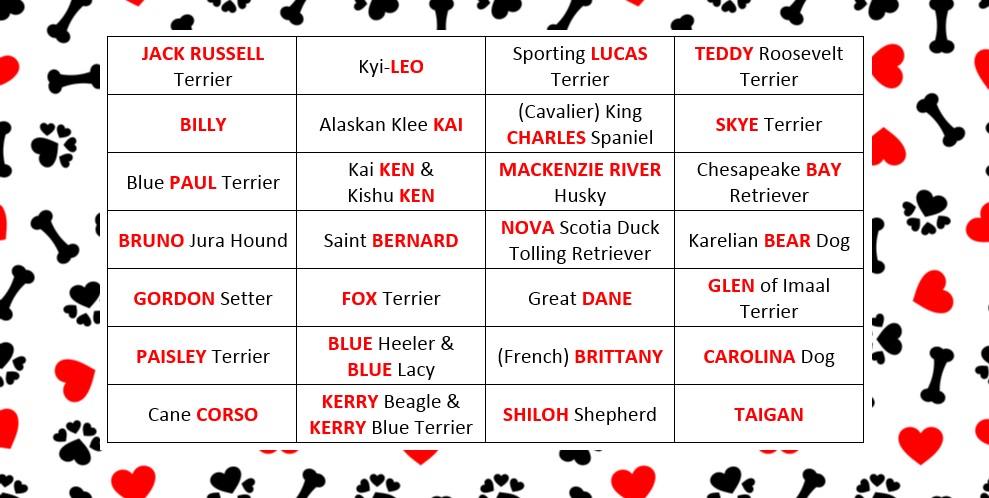 And, yes, in case you were wondering, you definitely need to google these breeds and enjoy some gloriously cute pictures of some seriously amazing dogs!
How Our Black & White Puppies – Sorry, Printed Name Labels Can Help Make Sure Your Children Always Fetch Their Own Stuff Home (Or That You Can At Least Retrieve It From The Lost Property Box).
Stikins ® labels are stick on name labels that simply stick on and stay on to make sure all your children's stuff is safely and securely labelled. Our name labels are white in colour and personalised with a bold, black font to make them super easy to read. They measure 30mm wide by 15mm high; this size fits neatly and discretely onto items of all shapes and sizes.
You can personalise your name labels in any way you like. Most people simply add a name; you can include first names, middle names, surnames, and nicknames (or any combination of these). Some customers also add additional information; popular examples include a piece of contact information (like a phone number), a school name or class/year group name, and medical information (such as allergies and medical conditions). Others like to use friendly messages such as "I belong to" or "Please return to".
Name labels are a brilliantly useful tool to keep your children's belongings safe – especially in busy school environments where their stuff will be similar to or exactly the same as everyone else's belongings (making it extremely easy for things to get mixed up or to go missing entirely). With stick on name labels, you can label items in minutes (rather than spend hours ironing on name tags or sewing in name tapes) and with Stikins ® labels you can use one pack to label everything. Our unique adhesive creates adhesive bonds strong enough to hold your name labels firmly in place on clothing, shoes and bags, lunch boxes and water bottles, P.E. kit, stationery and books, and all those other essentials that end up making their way to school.
Visit www.stikins.co.uk to find out more or to place an order today!
Leave a Comment