Product Information: Celebrating Shakespeare With Shakespeare-Inspired Names & FAQs
Today is National Shakespeare Day. To celebrate, we decided to find out how many names of Shakespearean characters have made an appearance on our name labels. We've also put together some FAQs inspired by some of Shakespeare's works.
"Thy Name Is"… Celebrating Your Favourite Names Inspired By Shakespeare Characters
Amazingly, there are over 1,500 characters in Shakespeare's plays. A large number of these are anonymous roles, including plenty of ambassadors and soldiers, servants and messengers, lords and ladies, apparitions and witches, citizens and commoners, executioners and jailers (not to mention a few murderers), along with one character who is given no other description than "Man".
This still left us with over 800 character names to find! Even more amazingly, we've actually printed the names of more than 100 Shakespeare characters onto our name labels over the last year!
To quote Shakespeare himself, this is "too much of a good thing" for one blog post, so here's a shortlist of our favourites: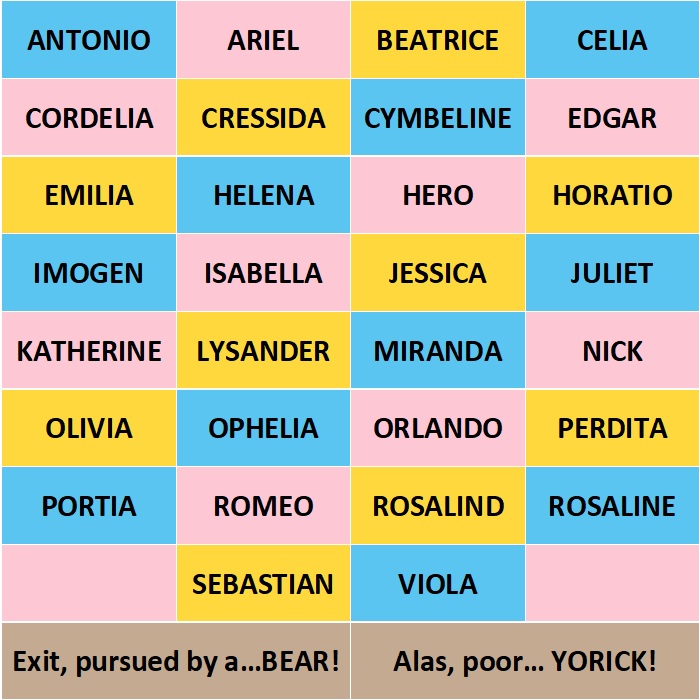 Name Label FAQs Inspired By Shakespeare
What's In A Name? – or what should I include on my name labels?
The majority of our customers request a name only – usually in the form of a first name and a surname. However, there are plenty of variations that can be used to make your name labels more personal or useful.
For example, you could use initials or nicknames to make your name labels more personal. Using initials is a useful option if you need to include particularly long names. For example, if your names include double-barrelled first names or surnames. Adding a nickname is also handy for individuals who are better known by this name than their given name.
Some customers also like to add additional information to make their name labels more useful. This could be a piece of contact information (like a mobile number) to make items easier to return. It could also be a room number for a resident in a nursing or care home.
We have also printed medical and allergy information. This allows your name labels to act as additional medical alerts in the event of an emergency.
To Be (on two lines) Or Not To Be (on two lines) – or should I choose one line or two lines?
We offer the choice of one or two lines of text. Two lines is usually the better option because it produces the best font size for the amount of text being requested. We recommend using the one line option only if you need to request fewer than 12 characters in total. If you need more characters than this, the two line option will produce a larger font size.
We are able to offer three lines of text on request. We only recommend requesting this option if you absolutely need to include a lot of information on your labels because the font size will be quite small. To request three lines, you will need to place your order by phone. This allows us to produce your labels separately to our main production run.
Brevity Is The Soul Of Wit (and produces the best font size) – or how do I get a larger font size?
Our system automatically uses the largest font size that will allow your requested personalisation to fit onto your name labels. This means that the font size will get smaller as you add more characters. You can request up to 22 characters per line but we recommend 15-20 to get the best possible font size.
Band Of Brothers (and sisters) – or how can I order name labels for all my children?
There are a few ways to order name labels for multiple children; you can purchase individual packs or create packs that can be shared. Unfortunately, as we use a automated print system, we cannot split a pack between two or more names.
If you are purchasing individual packs, it's always worth bearing in mind that we offer a 10% discount on any order that contains three or more packs. This discount applies automatically when you order online or by phone. If you don't need three packs yourself, you can always get together with friends or family to place an order that qualifies.
You can create a pack for sharing by:
Requesting a surname only (e.g. "Surname" / "Surname Family" / "Surname Twins").
Request an initial and surname (if your family members share an initial).
Leave one line blank and add a surname so you can write in a name with a suitable laundry pen.
Request two names and cut the name labels in half (e.g. enter "Name 1" on line 1 and "Name 2" on line 2).
Request two names and share (e.g. "Name 1 & Name 2" on line 1 and "Surname" on line 2).
"Is he dispatch'd?" – or when will my name labels arrive?
We print and post name labels up to 3pm, Monday to Friday. This means we can despatch orders received by 3pm on the same working day. We despatch orders placed after 3pm or over the weekend on the next working day.
Our standard delivery service uses Royal Mail's first class service and is free. Normally, 93% of first class mail arrives next day. At the moment there are some delays to Royal Mail's services and items make take up to five working days to arrive.
Leave a Comment