Just for Fun: We're Celebrating World Animal Day With Names That Feature Creatures!
This Sunday is World Animal Day. To celebrate, we've put together a list of the most popular creature-featuring names printed onto our name labels this year.
Stikins Presents…Popular Names That Take A Walk On The Wild Side
We've taken a trawl through our recent orders to put together our top 21 names inspired by creatures great and small. Check out our list to see if it features your favourite creatures and why not see how many other names you can think of that are inspired by animals.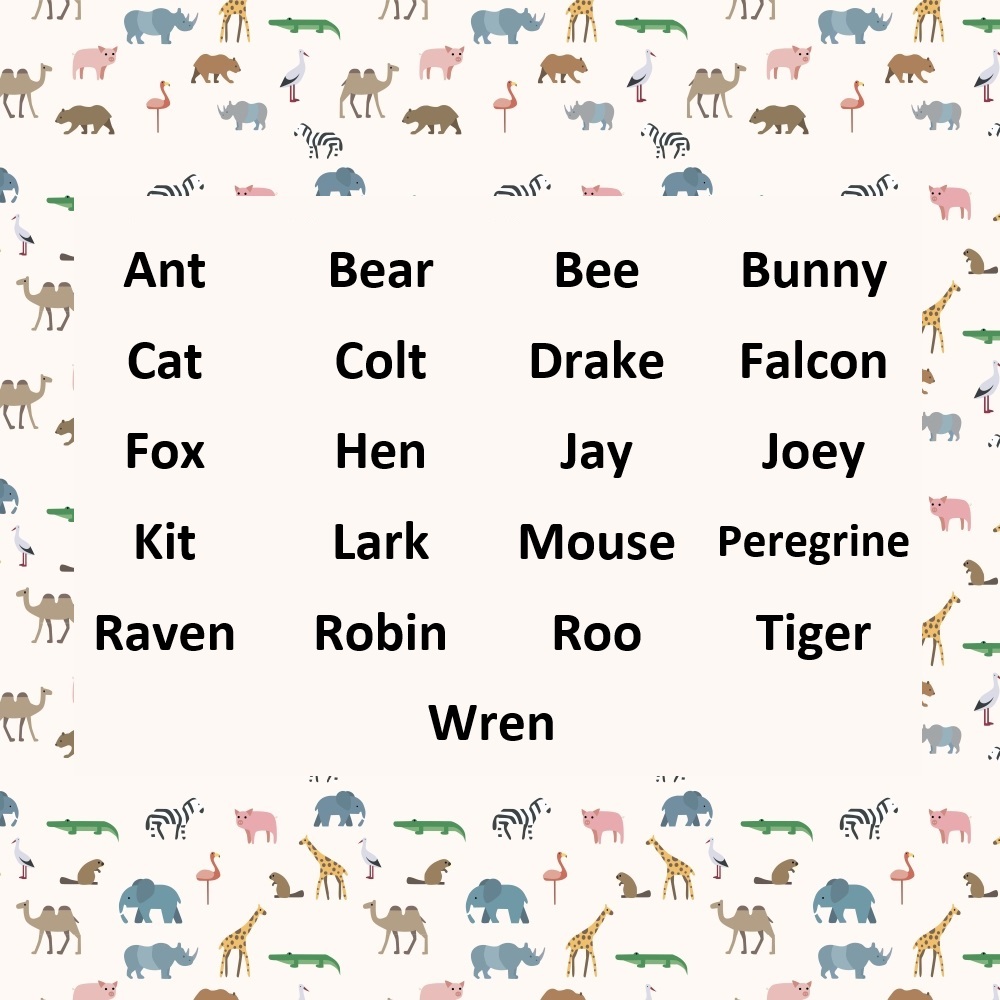 Stikins Presents…Name Labels For All Your Favourite Creatures
Stikins are multipurpose name labels that can be used to label items of all shapes and sizes, which means they're a great way to label all of your little creatures' favourite belongings – whether that's your kids or your cats!
While Stikins were primarily designed for labelling school uniform and other school kit, we've had feedback from a number of customers who have found that Stikins are a great way to organise their pets' stuff - just as much as their kids' stuff!
Stikins can be used to label pretty much everything and anything. Our unique adhesive creates super strong adhesive bonds with a range of materials and surface types and Stikins have been independently tested using the BS EN ISO6330 wash test procedure for 60 washes at 40 degrees. You can also put labelled items through the tumble dryer, dishwasher, microwave, and kitchen sink.
This means that Stikins name labels can be used on much more than just school uniform and kit. Any clothing and fabric items can be labelled by applying Stikins onto the wash-care label, while other items can be labelled simply by applying a name label directly onto the item. So you can get all your family's belongings labelled up - from clothes and shoes, to lunch boxes and water bottles, to their favourite cuddly toy!
Order Stikins Name Labels Today
Stikins name labels are available in four pack sizes; 30, 60, 90, or 120 labels. You can order online, by phone, or by post (simply fill in the order form on our leaflets and post it to us along with a cheque for payment). Currently, we are offering a 10% discount on every order placed online or by phone that contains 3 or more packs.
We offer same day despatch on orders placed Monday to Friday by 3pm; orders placed after 3pm or over the weekend are despatched on the next working day. Standard delivery is free and uses Royal Mail's first class service. If you need to guarantee that your name labels arrive next day, we offer a special delivery option, which costs £6.30 and uses Royal Mail's special delivery guaranteed service.
Head on over to our home page to learn more about our name labels and all of the different ways they can be used or to place an online order today!
Leave a Comment