Just for Fun: Do Your Favourite Names Feature In Our First Favourite Fifty List?!
This year, we're doing things a bit differently. Instead of top 20 names for boys and for girls, we've decided to celebrate our favourite 50 names. Read on to find out if your favourite names have made the list!
Our Favourite Fifty Names Of 2022
We like to start each year by finding out which names we printed most in the last year. Usually we publish our top 20 lists of names for girls and names for boys. This year, we thought it would be fun to shake things up. So, we've mushed our two lists together (and included a few extras) to create our "Favourite 50 For 2022".
Have your favourite names made it onto our list this year?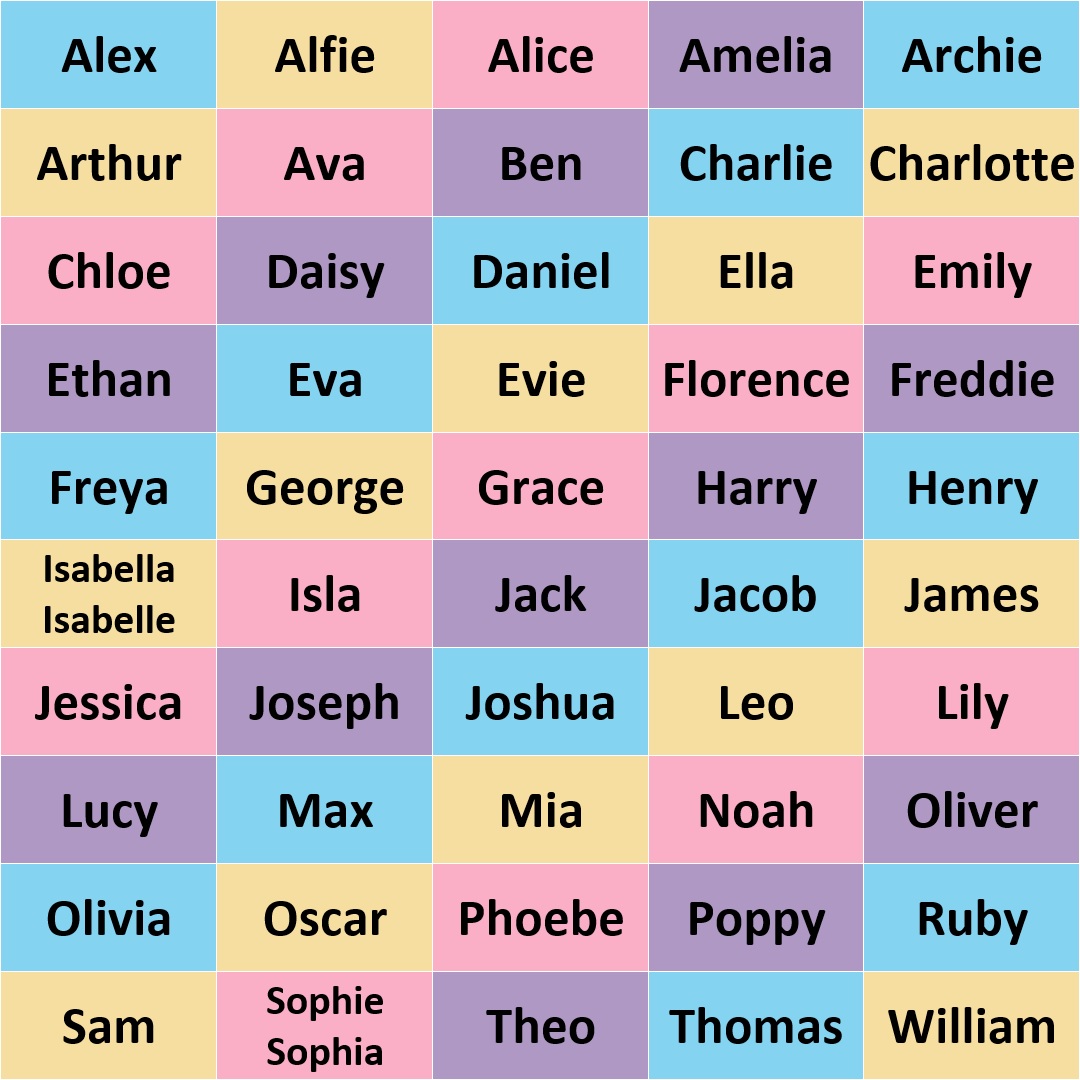 Once again, our most popular names have changed very little. Emily, Olivia, Sophie, Harry, and Oliver have remained firmly on top. Only Jack has slipped one place and just missed out on one of our top spots (being replaced by George).
Personalise Your Name Labels To Suit Every Sort Of Name
You can personalise your name labels however you like – according to three basic rules:
You can choose one or two lines of text.
Each line can contain a maximum of 22 characters (including spaces).
You can only use alphanumeric characters (A-Z, a-z, 0-9) and standard punctuation from the English alphabet / keyboard.
We have a few top tips to get the perfect personalisation.
Our system uses the largest font size that will allow your personalisation to fit on your name labels. So, MORE CHARACTERS means a SMALLER FONT SIZE.
If you need 12 characters or fewer, use the one line layout to get a bigger font. If you need more than 12 characters, we recommend using the two line layout.
While you CAN enter 22 characters per line, we recommend no more than 15-20.
If you are requesting particularly long names, especially double barrelled names, use initials to lower your character count. For example, "Longestshire-Bigginsbatch" requires 25 characters and won't fit. You could enter "H-B", "Longestshire-B", or "L-Bigginsbatch" instead of the full name.
If someone is better known by a nickname, you can include that name as well as or instead of a given birth name.
If you want to create a set of name labels to share, try one of the following options:

Use a family or group name (e.g. "Surname Family", "Team Surname", or "Surname Twins").
Enter both names (e.g. "Name 1 & Name 2" on line one and "Surname" on line two).
Enter an initial and a surname (e.g. "A Surname")
Enter one name on the top line and one name on the bottom line and cut your name labels in half.
Order Name Labels Printed With Your Own Favourite Names Today
You can order online at any time or order by phone during office hours (9am-5pm, Monday to Friday). Enter the personalisation you need on one or two lines. Choose from our four pack sizes of 30, 60, 90, or 120 name labels. Add your delivery details and make payment. Easy peasy!
We print and post our name labels every working day (Mon-Fri) up to 3pm. So, we'll despatch your order same day if you order by 3pm. Order after 3pm, over a weekend, or during a holiday, and we'll despatch your order on the next working day. We use Royal Mail's first class service as our standard (and free) delivery service.
If you order three or more packs, you'll automatically get a 10% discount. These packs can be personalised in the same way, entirely differently, or any mix that you prefer.
Leave a Comment